Slow Down, We're Team Racing
by Tom Manheim
In the bright blue waters off the coast of Santa Cruz, a fleet of Santana 22s based out of the Santa Cruz Yacht Club (SCYC) is developing a reputation for fast, fun and furious racing on the Monterey Bay. Lest there be any confusion, this is not your father's Oldsmobile of dingy racing. While experienced team racers may be familiar with the faster pace of team racing, those of us who are new to the sport find it an exhilarating change that rates high on the fun factor. Races start with a 3 minute clock and typically finish in less than 15 minutes, which means 8-10 races in a single afternoon are the norm. With as many as eight boats on the very short starting line, mixing it up in close quarters is the norm, and winning the race isn't always about being first across the finish line.
The Fleet 9 team racing bug hatched nearly two years ago at the 2012 fleet holiday party when U.S. Sailing judge and SCYC member Mike Gross started talking it up. Two months later, we were underway and we haven't stopped in nearly two years. The S22's wide beam, heavy keel, and quick maneuverability make the Santana 22 ideal for year around sailing in the Monterey Bay, and their sturdy construction stands up well with the occasional bumps that are inevitable in in tightly contested short course racing. It's become a confidence builder for even the most seasoned sailors in the fleet. "It's greatly improved my boat handling," says Schoch Therapy skipper Fred Molnar (#243), who's been racing since 1989 and regularly finishes near the top of out fleet. "I'm more confident than ever in close quarter maneuvering and tactical thinking."
In team racing boats are grouped onto two teams with every boat using the rules of racing to insure that your team finishes with a better combined score than the other team. This requires a change of racer mindset. When you're racing to get the best overall team score, it's not enough to know what place your own boat is in; you have to know the place of every boat on your team to know whether you're ahead or whether you need to turn back and help a trailing teammate. With as many as eight or ten races in the space of two or three hours, a single day of racing gives competitors more starts, contested port/starboard crossings, overlapped mark roundings, tacking and luffing duals, not to mention lead changes than an entire season of one-design racing. That's one of the reasons that team sailing has improved overall sailing and racing skills for the entire Santa Cruz fleet.
"The first few race days many of the boats were very late to the start. Now everyone is on, very near, or just over the line at the start," says Gross. "General rules and tactics knowledge have improved as well as close quarter maneuvering. All of these skills translate to other genres of racing." And Molnar adds, "Raw boat speed doesn't matter as much as tactics and the ability to monitor and adapt to changing developments on the course. The idea that faster boats help their team mates really improves the whole fleet on several levels."
As Fleet 9 Captain Chris Hofmann explains, "In team racing the primary emphasis is on boat maneuvering and positioning , whereas for buoy and offshore you're racing to beat everyone else and the emphasis is on speed."
There are a number of racing maneuvers that are unique to team racing. For instance, it's not unusual at a downwind mark to see an inside overlapped boat on starboard continue past the mark in a mark trap maneuver. The controlling boat may drop a place, but by trapping her opponent and allowing a trailing teammate to pass ahead of the controlled boat the team score is improved.
In another odd maneuver, a boat ahead may suddenly bear away before rounding a mark, and then head back toward the mark on a starboard tack. A split second decision is required as you realize your opponent's intention is to take you for a lengthy detour far off course. Do you duck and risk missing the mark? Do you slow and hope the starboard boat passes in time? Do you tack over and allow the other boat to control you? On a short course in a 15-minute race, there's little time to decide, and the answer probably lies not just in where you are, but where your team mates are, as well.
The fast pace and unusual tactics that are common to Team Racing have energized the Santa Cruz fleet. The camaraderie that has developed among all members has increased the fun factor when fleet sailors gather. Remarkably, in more than a year of team racing, a protest flag has never flown. Self correcting spins on the course are the norm.
And word is spreading.
Over the past year as the excitement and buzz has grown, more and more boats and sailors have joined in. And now, our 2nd Saturday afternoons are attracting sailors to Santa Cruz from that little bay to the north of us, the San Francisco Bay.
It's the kind of racing we'd encourage other Tuna fleets to take on. And if you'd like to venture down to Santa Cruz on the second Saturday of any month, either with or without your own boat, consider yourself invited. If you would like to learn more about the Santana 22 Team Racing in Santa Cruz or you want to join in the fun, check out our website, or our discussion group here.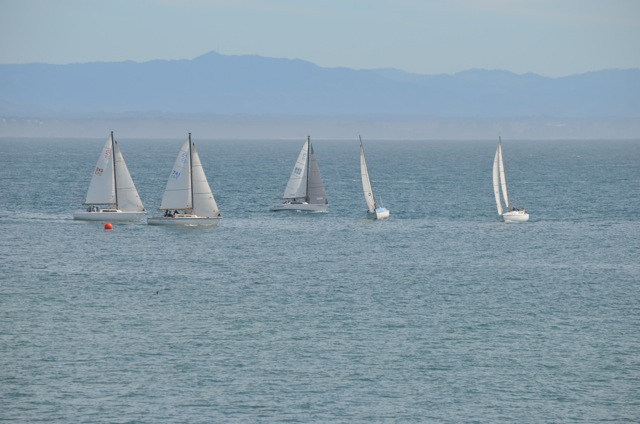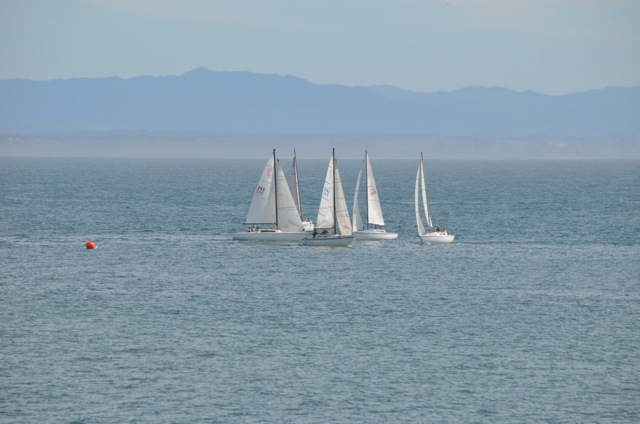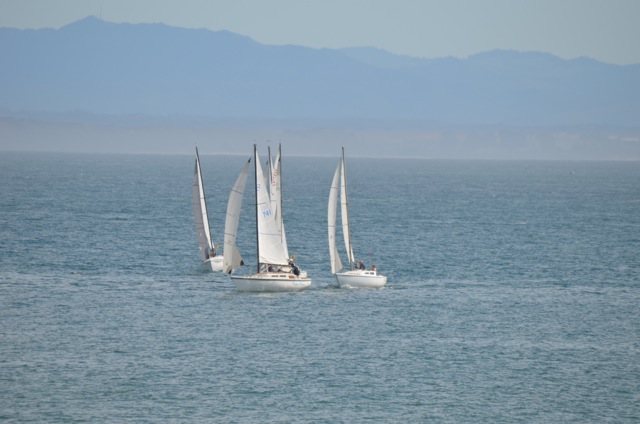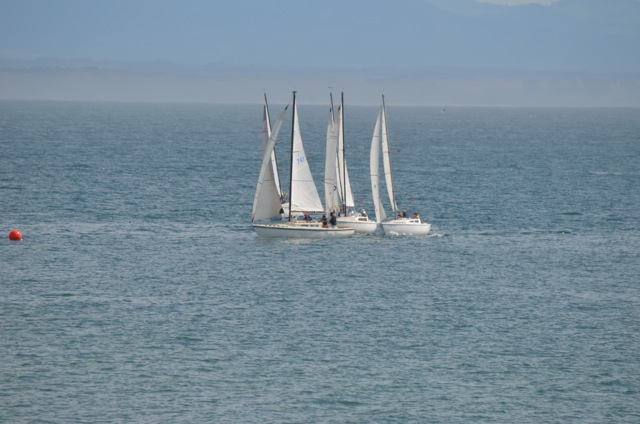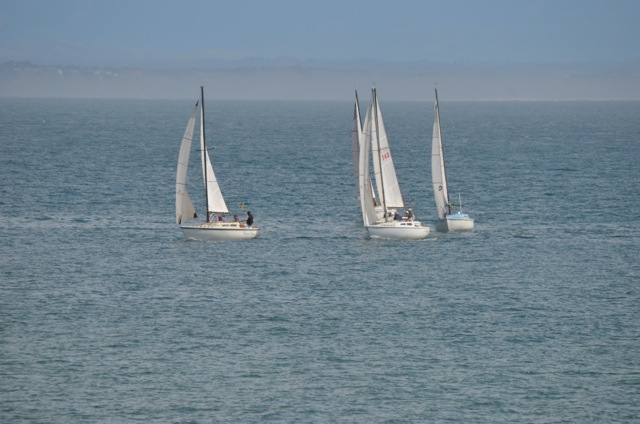 First Mark Rounding photo series: Team yellow's Rick's Place (#741) and team red's Schock Therapy (#243) along with yellow's Old Enough To Know Better (#665) approach the first mark on starboard as yellow's Tara (#300) and red's Hamachi (5196) come in on port. Boats converge and Rick's Place wins the close-quarters battle.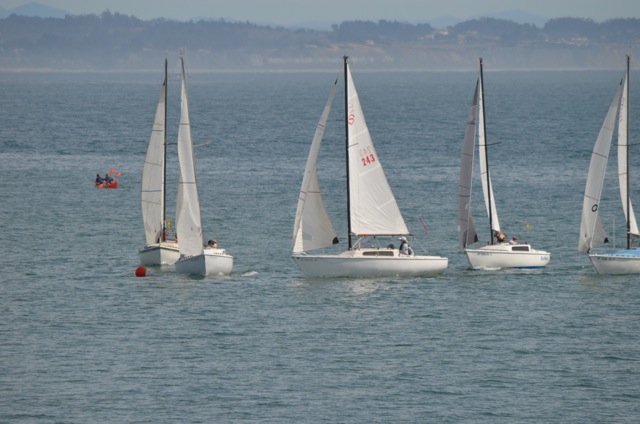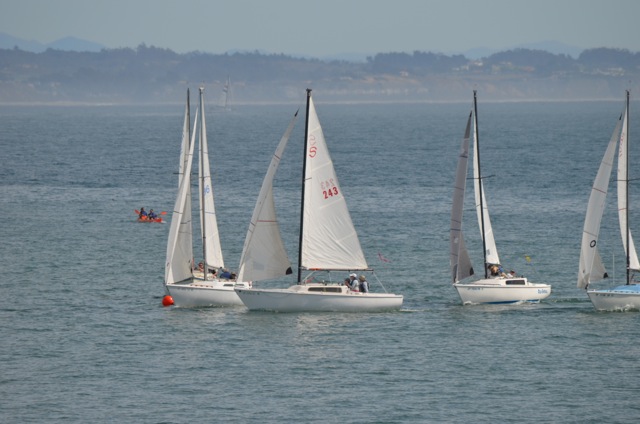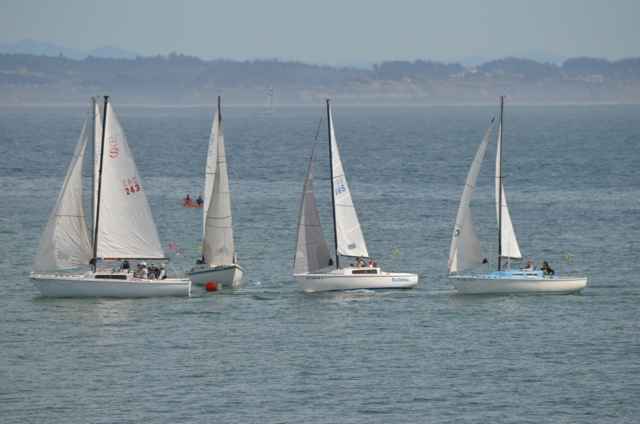 Second Mark Rounding series: Red's Hamachi has controlled yellow's Rick's Place allowing red's Schock Therapy to gain ground. After the rounding, team red is firmly in first place with Hamachi and Schoch Therapy in first and second place. With six boats racing, the 1-2 combination wins regardless of where the third boat on the team finishes.