Santana 22 Nationals 2015
Thanks to Keay Edwards, for this video:
Team Racing in Santa Cruz
New article by Tom Manheim posted. Click here.
Santana 22 Nationals 2014
Thanks to Keay Edwards, crew on Shanman, for this video:
Results
Norcalsailing.com Nationals coverage.
Report from Practice Day on April 5, 2014:
For a report on the Tuna Spring Tune up at Clipper Cove, check out
norcalsailing.com.
Check out the Facebook group page and join!
Why a Santana 22?
If you are looking for competitive one design racing on the San Francisco Bay at a fraction of the cost of other fleets, the Santana 22 is your boat. The Santana 22 is a 50 year old design that was conceived expressly for sailing on the bay. The class currently maintains an active racing schedule participating in the YRA One Design Class Association series in addition to several other races. Our sailors range from some of the best in the bay to those who are just getting started in racing.
Santana 22s are the cheapest way to get into one design racing. Race ready boats are commonly found for sale at less than $2,000. Strict one design rules keep costs on sails and rigging down while maintaining a tight fleet. The Santana 22 is also an extremely safe and forgiving boat to sail.
New boats are also available from the manufacturer, WD Schock. For more information on new boats and Santana 22 history, go to the WD Schock website
Join our mailing list.
File Photo: Nationals 2007
Nationals_3371D2.jpg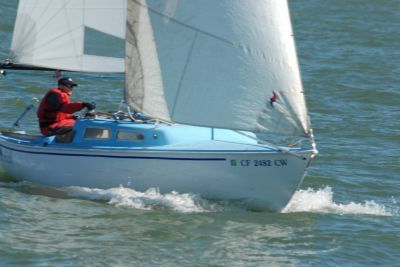 Class Contacts

---

2015 Spinnaker Series
scores

---

2015 White Sails Series
scores

---

| | |
| --- | --- |
| Wheeler Regatta, Race 1 | Apr 11 |
| Wheeler Regatta, Race 2 | Apr 11 |
| YRA Spring 1, Race 2 | Apr 18 |
| YRA Spring 1, Race 1 | Apr 18 |
| YRA Spring 2, Race 1 | May 16 |
| YRA Spring 2, Race 2 | May 16 |
| YRA Spring 3, Race 1 | Jun 13 |
| YRA Spring 3, Race 2 | Jun 13 |
| YRA Summer 1 | Jul 11 |
| YRA Summer 2 | Jul 11 |
| Nationals, Race 2 | Jul 17 - 19 |
| Nationals, Race 1 | Jul 17 - 19 |
| Nationals, Race 3 | Jul 17 - 19 |
| Nationals, Race 4 | Jul 17 - 19 |
| YRA Summer 2, Race 2 | Aug 8 |
| YRA Summer 2, Race 1 | Aug 8 |
| YRA Summer 3, Race 1 | Sep 12 |
| YRA Summer 3, Race 2 | Sep 12 |

2015 Spinnaker Series Standings
detail

| | | | |
| --- | --- | --- | --- |
| Pos | Boat | Total | Sailed |
| 1 | Meliki | 4 | 4 |
| 2 | Byte Size | 7 | 4 |
| 3 | Tchoupitoulas | 8 | 4 |
| 4 | Sail la Vie | 11 | 4 |
| 5 | Auggie | 13 | 4 |
| 6 | Oreo | 13 | 4 |

2015 White Sails Series Standings
detail

| | | | |
| --- | --- | --- | --- |
| Pos | Boat | Total | Sailed |
| 1 | Byte Size | 19 | 18 |
| 2 | Meliki | 24 | 18 |
| 3 | Tackful | 35 | 18 |
| 4 | Zingaro | 51 | 18 |
| 5 | Albacore | 63 | 18 |
| 6 | Raven | 66 | 18 |
| 7 | Alegre | 71 | 18 |
| 8 | Carlos | 88 | 18 |
| 9 | N/A | 94 | 18 |
| 10 | Fun | 94 | 18 |
| 11 | Mad Max | 94 | 18 |
| 12 | High and Dry | 95 | 18 |
| 13 | Dayspring | 99 | 18 |