Sailing a Santana 22 to the Farallones
by Stephen Buckingham
... only go if the weather is good and I pretty much take it one step at a time. I'm always ready to bail out. There's nothing wrong with having a nice sail out the gate and romping ride back in the daylight. In fact I'd say I would be more likely to drop out now that I've sat out there all night. A Santana 22 needs the right conditions to make it out and back before it's too late. That includes the tide windows as well. Let me know what you think of this and we'll talk again. You might want to poll the fleet as well throught he email list and maybe I'll post this rambling diatribe.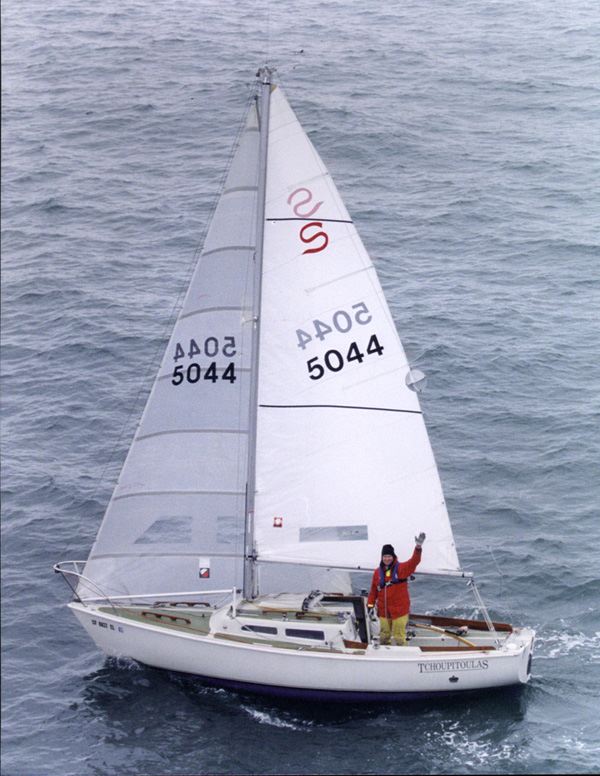 All the SSS races have both single and doublehanded divisions so you could start your singlehanded racing carrer with the 3 Bridge Fiasco at the end of January. The singlehanded Farallones can be a really long day. I'd say endurance is the biggest hurdle. The first few years I did it I dropped out some time during the night and still didn't get back until 5am! There's a 6am deadline. But one year it was blowing pretty good out of the south and I finished just after 6pm. Here's some things I felt were neccesary for the Farallones.
Autopilot. For me that would be any singlehanded race.
VHF with antenna at top of mast. If something goes wrong I want to be able to call the Coast Guard. I also carry a handheld VHF and a cell phone.
A good battery and electrical system. I steer as much as possible but the autopilot, instruments and radio are working all day and then you need running lights all night. Plus I need tunes!
Good running lights
GPS
A good way to dog down the hatches and at least the lower companionway board.
Bilge pump. I'm still lacking on this a little as all I have is a handheld pump.
Pad eyes in the cockpit to clip in a harness and a jack line that allows me to crawl up to the foredeck and come back down the other side.
Radar reflector on the backstay
Strobe light mounted on the backstay or my harness or PFD.
Flares. SSS says you have to have parachute flares and they're $40 each!
Good outboard and enough gas to get back from the Farallones. My first race I had the original 3.5 hp outboard with internal tank that came with my boat. Never again! I dropped out of the race after midnight with something like 17 miles to go back to the GG bridge. I refilled that sucker (spilling plenty every time in the rolling sea) about six or eight times and barely made it back against the ebb with fumes to spare. Seems like the wind always goes light at night that time of year and when you hear everyone else drop out on the radio, fire up their diesels and disappear into the darkness, it gets pretty lonely. I now have a Nissan 5hp with external 6 gallon tank and carry a 2.5 gallon reserve.
Hot food and hot drink and the ability to completely change everything I'm wearing.